The Voter Fraud Myth
What happens when law enforcement is politicized.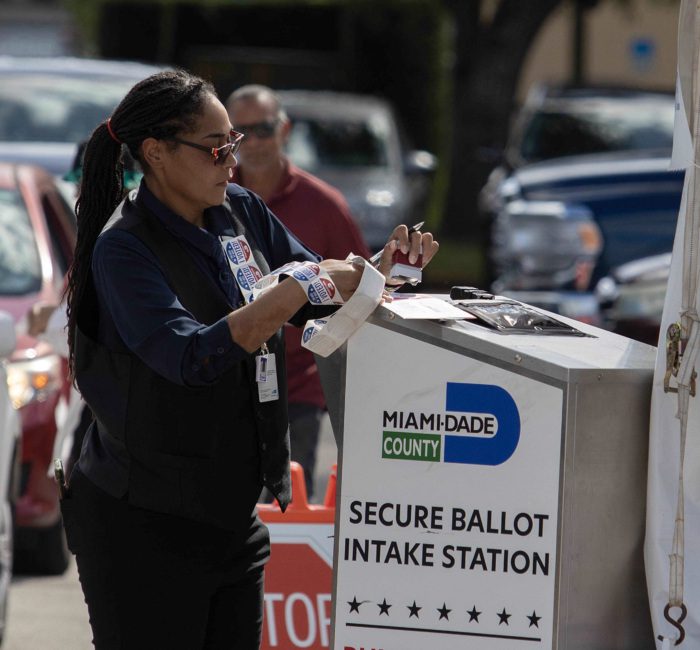 Published: 5.19.23
Voter fraud is practically nonexistent. Widespread voter fraud is the stuff of conspiracy theories. So what happens when state officials order up investigations—or create whole police forces—to go looking for it?
Citizens are hassled or even prosecuted for honest mistakes, which we already have systems in place to catch and correct. And many others are scared away from voting altogether.
The Brennan Center for Justice took a detailed look this week at the politicized use of law enforcement to hunt for widespread voter fraud, which, as we and others have said before, is not a thing.
In Florida, the new Office of Election Crimes and Security has investigated more than 3,000 possible cases of voting irregularity. A tiny fraction have resulted in arrests, Brennan reports — mostly of people who were misled or confused about their eligibility to vote.
In Texas, the Senate has passed bills to create "election marshals" and to make it easier to prosecute people with felony convictions who are confused about their eligibility. (The latter is an apparent response to the case of Crystal Mason, which is in front of the Second Court of Appeals in Fort Worth.)
This is not about election integrity. The point is to sow doubt about free and fair elections. The New York Times found last year that actual prosecutions for voter fraud are "blue-moon events," with inconsistent penalties that fall heaviest on poor and Black Americans.
Politicized law enforcement is a reminder that Election Denier behavior is still with us and is still an evolving threat. It's bad politics, it's bad policy, and our democracy is worse off for it.
Sign up for the weekly newsletter here. 
State of the States
In Georgia, the Fulton County district attorney asked a judge to reject an attempt by former President Donald Trump to block her investigation into election interference in 2020. District Attorney Fani Willis empaneled a special grand jury in May 2022 to investigate whether Trump and his associates broke state law when they tried to overturn his loss in Georgia. In March, Trump sought to have the DA disqualified from the case and to throw out evidence gathered by the special grand jury. Willis told the judge that Trump's arguments were "barred by lack of standing, untimeliness, and other procedural flaws, and any remaining arguments are without merit." A bipartisan group of former federal and Georgia state prosecutors filed a friend-of-the-court brief on Friday opposing Trump's motion, arguing that the former president was seeking "extraordinary and unwarranted relief." States United served as co-counsel on the brief. States United also has a full background report on the investigation.
In The News
Image information:  A poll worker at a drive-up ballot drop box in Miami in November 2022. (Saul Martinez/Getty Images)