Polling
July 7, 2023
New Survey: Across the Political Spectrum, Americans Prioritize Counting Every Legal Vote Over Winning
According to a new survey, Americans overwhelmingly say it's more important that we count every legal vote than that their preferred candidate win. That's true of Republicans, Democrats, and Independents.
States United Action, in partnership with YouGov, conducted a nationally representative survey of over 1,000 American adults in mid-June 2023. 1For more details on the survey's methodology, please click here. In particular, we wanted to better understand Americans' priorities around election results.  
Please indicate your level of agreement with the following statement:  
It is more important to make sure every legal vote is counted than it is for my preferred candidate for president to win the election in 2024.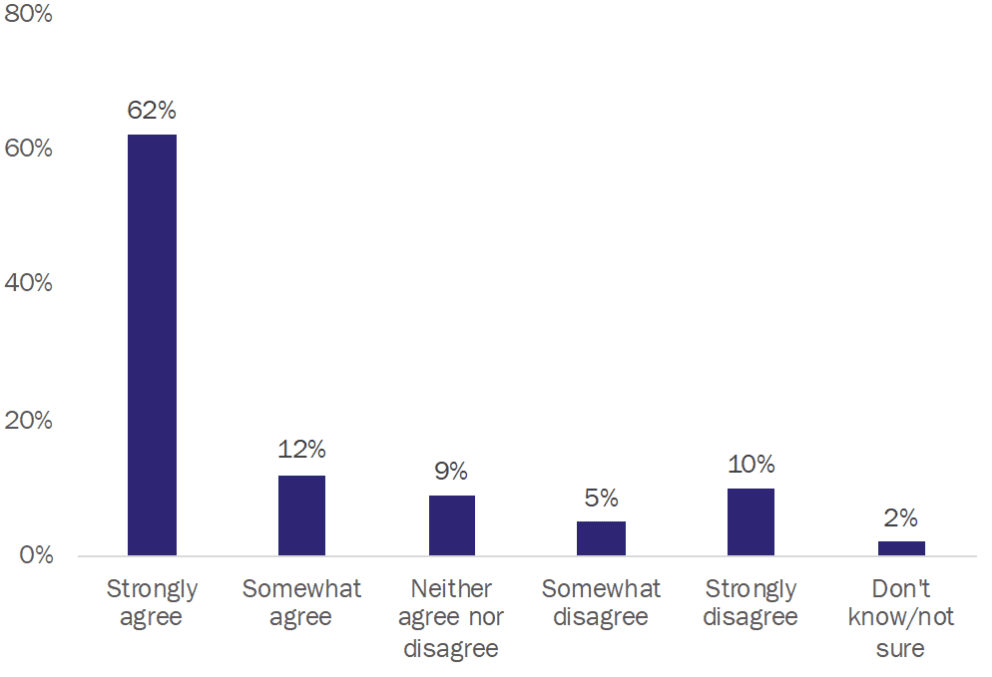 Our results show that an overwhelming majority of Americans believe it is more important for all legal votes to be counted than it is for their preferred candidate to win in the 2024 presidential election. Nearly 3 in 4 Americans — 74 percent — believe that counting all legal votes is more important. And Americans feel strongly about this tradeoff: 62 percent of respondents said that they "strongly" agreed that counting all legal votes was more important. Just 15 percent indicated that they "somewhat" or "strongly" disagreed and would rather see their preferred candidate win.  
Importantly, Americans of all political persuasions prioritize counting every legal vote, including: 
75 percent of Democrats

 

74 percent of Republicans

 

70 percent of Independents*

 
*In keeping with research best practices, we classified Independent voters who reported "leaning" toward either the Democratic or Republican parties as partisans. Therefore, we define "Independents" as those respondents who professed no partisan attachments whatsoever.   
This survey is based on 1,038 interviews conducted on the internet of U.S. adults. Participants were drawn from YouGov's online panel and were interviewed between June 14 and June 20, 2023. Respondents were selected to be representative of American adults. Responses were additionally weighted to match population characteristics with respect to gender, age, race/ethnicity, education, and U.S. Census region based on voter registration lists, the U.S. Census American Community Survey, and the U.S. Census Current Population Survey, as well as 2020 presidential vote. The weights range from 0.09 to 6, with a mean of 1 and a standard deviation of 0.71. The margin of error for this survey is approximately ± 3.7 percentage points, though it is larger for the analysis of partisan subgroups described above. Therefore, sample estimates should differ from their expected value by less than the margin of error in 95% of all samples. This figure does not reflect non-sampling errors, including potential selection bias in panel participation or measurement error. 
See All Resources
Sources
For more details on the survey's methodology, please click here.