The Language of Violence
Rhetoric matters. So does accountability.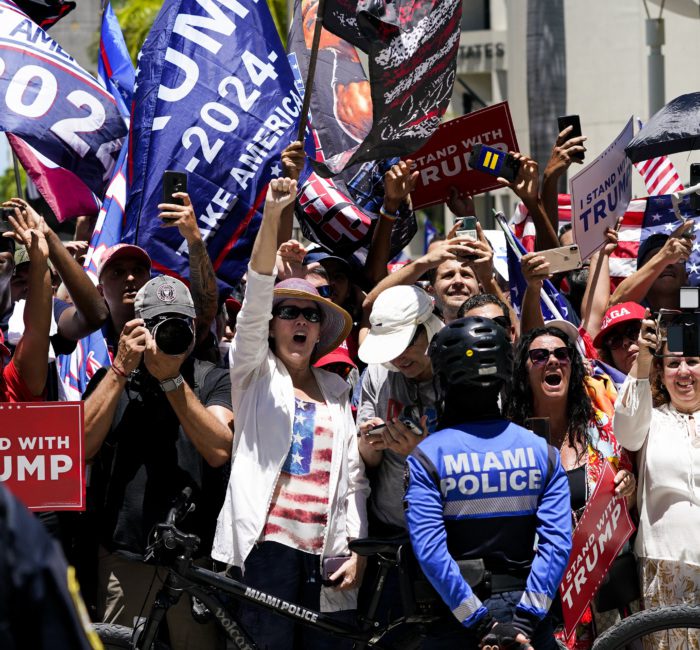 Published: 6.16.23
Within hours of Donald Trump's federal indictment, a sitting congressman tweeted about war and retribution. Kari Lake, the failed Arizona gubernatorial candidate, said millions of gun owners would protect the former president. Scores of Trump's defenders, ignoring the evidence and a clear need for legal accountability, said it was election interference, cooked up to damage his campaign.
We shouldn't have to say it, but this kind of rhetoric from political leaders is reprehensible. Especially using barely veiled threats at a time of rising political violence. If even one person acted on those words, the consequences would be catastrophic.
Political leaders must take political violence seriously and condemn it in clear, specific terms. States United Action released a report this week examining Americans' views on political violence. It shows that what our leaders say makes a big difference. That's especially true when it comes to elections.
The report found that support for violence nearly doubles when Americans believe their preferred candidate has lost an election because of "unfair actions" by political opponents. So Trump's howling about the indictment as election interference isn't just predictable and wrong. It's dangerous.
For the moment, accountability is winning out. And law enforcement is taking threats seriously. The crowds who showed up at Trump's arraignment in Miami this week were raucous but contained. Much the same happened earlier this year in New York.
This is no accident. Analysts who study political violence say the prosecution of hundreds of Jan. 6 rioters has had a clear deterrent effect. People who might consider political violence are thinking twice because they know they'll land in prison.
So accountability works. But that doesn't excuse the reckless language in Trump's defense—including from Trump himself.
Sign up for the weekly newsletter here. 
State of the States
In Georgia, Fulton County District Attorney Fani Willis said Donald Trump's federal indictment will not affect her own investigation of the former president. Willis is examining whether Trump and his associates broke state law when they tried to reverse his loss in Georgia in 2020. New York's attorney general said this week that her civil fraud suit against Trump would probably be put on hold until the federal case is resolved. But Willis said in a statement: "The federal indictments will not have any impact on the Fulton County election investigation." Ahead of any charges in Fulton County this summer, the sheriff sent teams to Miami and New York to observe security preparations at both of Trump's arraignments.
In The News
Former President Trump surrendered to federal authorities in Miami after being indicted on 37 felony counts related to his handling of classified information. He pleaded not guilty.
Leaders of the Nevada Republican Party who falsely posed as presidential electors in 2020, even though President Biden won the state, met with a grand jury investigating the events leading to the Jan. 6 attack on the Capitol.
States United Action released a new analysis of Americans' views on political violence and extremism. It includes practical guidance for leaders, elected officials, researchers, and journalists on how to talk about political violence without increasing risk.
Image information: Crowds in Miami, where former President Trump was arraigned this week, were raucous but contained. (Jabin Botsford/The Washington Post via Getty Images)