Who Political Violence Threatens
The fact is that women are disproportionately targeted.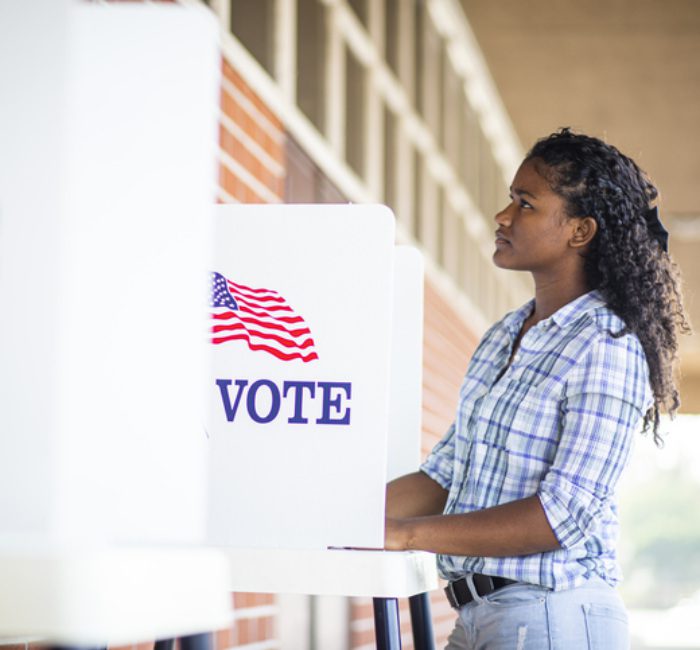 Published: 3.17.23
In Michigan, the three statewide officials responsible for overseeing and defending elections are all women: Gov. Gretchen Whitmer, Secretary of State Jocelyn Benson, and Attorney General Dana Nessel.
All three defeated Election Deniers to win re-election last fall. All three have been threatened with violence. In 2020, Whitmer was the target of a plot by a group of men who planned to kidnap her and kill any police officers who stood in their way. Accountability for those threats is still ongoing.
Our history reflects the countless and continuing efforts of women to strengthen our democracy and make it more inclusive. But we must also acknowledge that women are disproportionately targeted by political violence.
Public officials who are women and racial or ethnic minorities are much more likely to report being harassed or threatened, according to a survey of local elected officials last year by Princeton University, Bridging Divides Initiative, the Anti-Defamation League, and CivicPulse.
The 19th, a news organization that focuses on gender, politics, and policy, this week published an enlightening read on this sobering reality.
As Katie Reisner, senior counsel at States United, explains in the story, a recent example in New Mexico illustrates how easily Election Denier behavior and disinformation can translate into direct danger for elected officials.
In that case, authorities say a failed political candidate was at the center of a series of drive-by shootings at the homes of Democratic officials, including state Sen. Linda Lopez. A bullet went through the bedroom of her 10-year-old daughter.
Confronting political violence, along with the disinformation that feeds it, is an urgent priority. At States United, we provide guidance on best practices for countering political violence, and work with law enforcement to help keep election officials safe. Fighting dangerous election lies goes hand in hand with these efforts.
The climate of threats faced by the country's thousands of dedicated election officials and election workers, most of them women, is unacceptable. Their security is essential to maintaining peace, order, and trust in our democracy.
Sign up for the weekly newsletter here. 
State of the States
In Arizona, Attorney General Kris Mayes said the State Bar and other entities should determine whether her predecessor, Mark Brnovich, faces consequences for withholding a report by state investigators that found there was no widespread fraud in the state's 2020 election. After Brnovich kept the findings private, Mayes published them herself last month and said they "show what we have suspected for over two years — the 2020 election in Arizona was conducted fairly and accurately by elections officials." Gov. Katie Hobbs's office has urged the State Bar to look into Brnovich's withholding of the findings, saying the revelation "exposed what is likely unethical conduct" by the former attorney general.
In The News
As a jury continued deliberations in the trial of six affiliates of the Oath Keepers charged for their actions during the Jan. 6 attack on the Capitol, federal prosecutors completed more than two months of testimony in a separate case against five members of the Proud Boys.
A man accused of aiding the plot to kidnap Michigan Gov. Gretchen Whitmer pleaded guilty to attempting to provide material support for terrorism in the 2020 kidnapping conspiracy. He agreed to cooperate with prosecutors in their case against four additional defendants who are set to face a state terrorism trial in August over the plot.
An annual threat assessment from the U.S. intelligence community affirms that Russia tried to interfere in the 2022 midterm elections. The report warns that these efforts, including spreading disinformation, have intensified over the past few years. States United continues to make combatting the spread of disinformation a top priority.