Stepping Up for Election Workers
States take action to protect the people who make elections happen.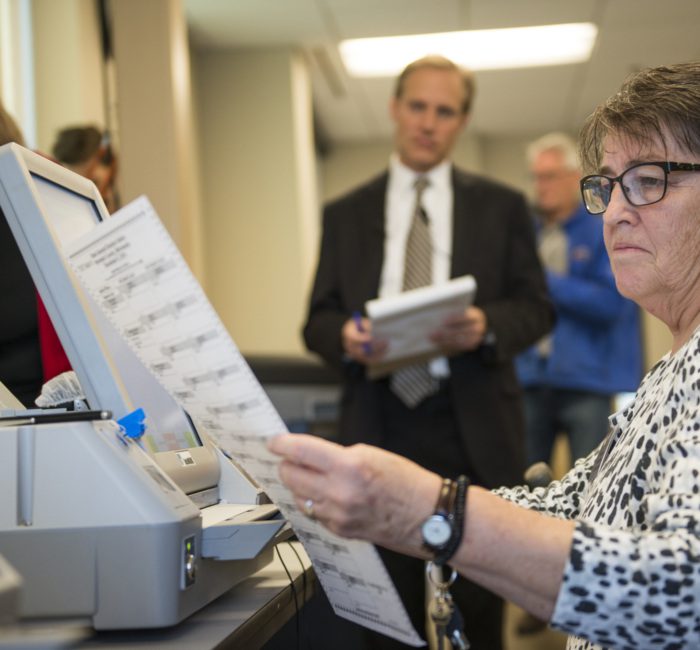 Published: 4.14.23
Hundreds of thousands of Americans give their time to serve as election workers. They set up polling places, make sure voters have a smooth experience, and help to verify mail ballots. Thousands more serve as election administrators.
Our elections couldn't function without them. And now states are stepping up to protect them.
As USA Today wrote this week, a growing number of states are enacting or considering stronger protections for election workers and administrators, including criminal penalties for those who intimidate or threaten them.
Minnesota Secretary of State Steve Simon told the newspaper his state noticed more abusive behavior toward poll workers leading up to last fall's election. He's concerned it will be more difficult to recruit them in the future.
As Simon put it, these workers are part of the "sacred process" of our democracy. But in recent years, election workers and administrators have faced a climate of harassment, arising from lies spread and stoked by Election Deniers. Some have decided it's not worth the stress.
We should be making it easier, not harder, for Americans to serve our democracy in these jobs.
The Bipartisan Policy Center released a report this week on strengthening our elections, and it includes some common-sense ideas for the election work force, such as reliable funding, fair pay, and consistent training.
We count on these Americans every time we cast a ballot. They should be able to count on us.
Sign up for the weekly newsletter here. 
State of the States
In Arizona, a report commissioned by Maricopa County found that printer problems — not tampering or any other malicious activity — were to blame for extended wait times at some polling places last November. The county used longer ballots and thicker paper for the 2022 election, in part because of unfounded conspiracy theories from the 2020 election. Those changes pushed ballot printers "to perform at the very edge of or past their capability," resulting in problems with tabulation machines at polling places, according to the report. County officials have stressed that no one was denied the chance to cast a ballot and all legal ballots were counted. The report was written by Ruth McGregor, a retired justice of the Arizona Supreme Court. Clint Hickman, the chairman of the county Board of Supervisors, pledged that the county will "make changes to best serve voters, starting with replacing some equipment."
In The News
Fox News was sanctioned by a judge for withholding evidence in the $1.6 billion defamation suit brought by Dominion Voting Systemsover false claims about rigged voting machines during the 2020 election. The judge plans to appoint a special master, an independent official tasked with ensuring judicial orders are followed, to investigate whether the network lied to the court. The case goes to trial Monday.
Justice Department special counsel Jack Smith is reportedly investigating whether the Trump campaign broke any laws by using false claims about voter fraud to raise more than $200 millionin the months after the 2020 election.
Manhattan District Attorney Alvin Bragg sued Rep. Jim Jordan of Ohio to stop interference in the criminal case against former President Trump in New York. "Repeated efforts to weaken state and local law enforcement actions are an abuse of power and will not deter us from our duty to uphold the law," Bragg's office said last week
Image information: An election worker in Minnesota conducts a public accuracy test of voting machines in 2018. (Stephen Maturen/Getty Images)