Accountability for Donald Trump
No one is above the law.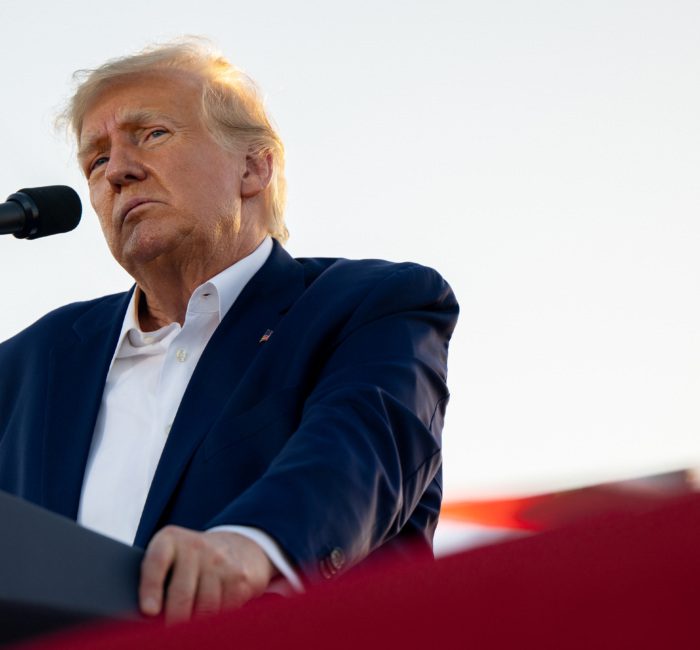 Published: 3.31.23
The indictment of Donald Trump is a moment without precedent in American history. It's also a moment to remember a bedrock principle of our democracy: No one is above the law, including former presidents.
A grand jury of everyday citizens in New York carefully considered the evidence over a period of months and determined that Trump should be criminally charged, reportedly for illegally concealing hush money payments to an adult film star just before the 2016 election.
Those citizens did their jobs, and the Manhattan district attorney, who was sworn to follow the facts and the law, did his. The same rule of law that guided all of them also means Trump is presumed innocent and can avail himself of a defense in the criminal justice system.
The charges remain under seal until next week, when Trump is expected to appear in court. In the meantime, we should mark this as a step forward for accountability. It's a sign of a healthy democracy to apply the criminal laws equally to everyone, including our leaders, because accountability under the law applies to everyone.
Under the same principle, other investigations will keep moving forward as other prosecutors similarly follow the facts without regard to political pressures. A district attorney in Georgia is investigating Trump's attempt to meddle with the results of that state's 2020 presidential election, and a U.S. special counsel is examining his role in the events leading up to the Jan. 6 attack.
This is also a moment to draw a clear line between peaceful protest and threats of political violence.
Last week, Trump posted a photo of himself with a baseball bat next to a photo of the Manhattan DA, and he forecast "death and destruction" in the event of his indictment. That behavior and language have no place in our democracy, especially in the weeks to come. Political leaders of both parties have a responsibility to condemn it in the plainest terms as the justice system does its work and our democracy faces another test.
Sign up for the weekly newsletter here. 
State of the States
In Georgia, state lawmakers voted to create a board with the power to investigate and remove elected local prosecutors. The bill includes a vague provision that would allow the board to discipline a district attorney for "conduct prejudicial to the administration of justice which brings the office into disrepute." Critics fear this provision improperly impedes prosecutorial discretion and that its vague language could be used for political purposes, including potentially against Fani Willis, the Fulton County district attorney. Willis is overseeing an investigation into whether former President Trump and his associates violated state law by trying to overturn the state's 2020 election results. State lawmakers also approved a bill that would bar county election offices from receiving money from nonprofit organizations or accepting donations to conduct elections. Both measures now go to Gov. Brian Kemp.
In North Carolina, the state Board of Elections removed two Surry County election officials for refusing to certify results last year after questioning the legitimacy of state election law and court decisions about voting procedures. "Those who administer elections must follow the law as it is written, not how they want it to be," Damon Circosta, chair of the state board, said in a statement. County and state officials have a legal responsibility to certify election results.
In Wisconsin, voters will choose a new justice next week for the state's Supreme Court. The decision could have ripple effects on future elections for years to come. The newly seated justice will serve for 10 years and could preside over disputes regarding the presidential and statewide elections in 2024, 2026, and 2028. You can read more about what to watch in next Tuesday's election on our website.
In The News
Former President Trump was indicted by a Manhattan grand jury, reportedly for his role in falsifying business records while paying hush money to an adult film star in the closing days of the 2016 campaign. The Manhattan district attorney's office said it was in touch with Trump's attorney to coordinate his surrender for arraignment.
Former Vice President Mike Pence, former White House chief of staff Mark Meadows, and other aides to Trump were ordered to testify to a Washington grand jury investigating efforts to overturn the 2020 election. The investigation into the former president is one of two overseen by Justice Department special counsel Jack Smith.
The CEO of Fox News was frustrated in the days after the 2020 election that fact-checking Trump's lies was "bad for business," according to documents made public in a defamation suit brought by Dominion Voting Systems. A judge ruled Friday that the case will proceed to a jury trial in April
Image information: Donald Trump at a campaign rally in Texas last week. (Brandon Bell/Getty Images)