Women Make Democracy Happen
Honoring those whose work has protected and expanded the freedom to vote.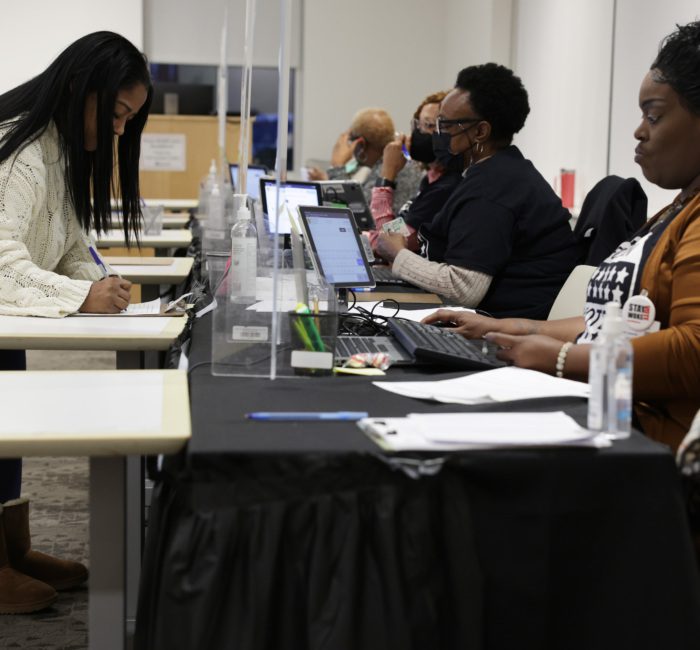 Published: 3.24.23
The story of our democracy is the story of women who have devoted their voices, their ideas, and their life's work to making it stronger.
We honor them during Women's History Month. But we don't need to look far into history to find inspiring examples. In recent years, when our democracy needed it most, women have stepped forward to defend it.
At the Jan. 6 hearings last year, police officer Caroline Edwards described shedding "literal blood, sweat, and tears" to protect the Capitol. And women from both parties played crucial roles in uncovering the truth about the attack, as our CEO, Joanna Lydgate, said at the time.
Rep. Liz Cheney of Wyoming served as vice chair of the House January 6 Select Committee. It cost her a seat in Congress. But as she reminded us, "Our institutions only hold when men and women of good faith make them hold, regardless of the political cost."
Twelve women now serve as governors. While there's a long way to go, this represents a record high for an office with crucial responsibilities for how elections are run and funded.
A democracy is only as strong as the commitment of its citizens to uphold it, and women lead here, too. They have voted in greater numbers than men in every presidential election since 1964.
And when we all vote, we do so thanks overwhelmingly to the work of women. They make up more than 80% of the local officials who serve as the backbone of our elections, according to Democracy Fund and Reed College.
In service to our democracy, they follow the proud histories of women like Judy Heumann, Karen Hobert Flynn, and March Fong Eu, who dedicated their lives to broadening the freedom to vote and building a more responsive and inclusive system of government.
We can do much more to honor their memories and work toward a truly representative democracy.
Women still make up only 28% of Congress, 30% of statewide elected executives, and 33% of state legislatures, according to the Center for American Women and Politics at Rutgers University.
They are also disproportionately targeted—women of color in particular—by political violence. In searing testimony at the Jan. 6 hearings, Georgia election workers Ruby Freeman and Shaye Moss described being subjected to disgraceful lies and then a campaign of harassment.
Building a country that is safer, fairer, and fully inclusive is a project far greater than election infrastructure. It touches all corners of politics and any number of issues. But no matter which issue you care about most, free and fair elections are critical. And women make them possible.
Sign up for the weekly newsletter here. 
State of the States
In Arizona, the state Supreme Court rejected most of an election challenge brought by Kari Lake, who lost the governor's race last year. The high court declined to review six of seven claims brought by Lake, stating that the appeals court "aptly resolved these issues" and that Lake's challenges were "insufficient to warrant the requested relief under Arizona or federal law." It sent the sole remaining claim, about verification procedures for voter signatures, back to the trial court judge to determine whether it can proceed or be dismissed on other grounds. The high court also agreed to accept briefs on whether Lake should face sanctions for claiming as an "undisputed fact" that more than 35,000 unaccounted for ballots were added to the election count at a processing facility. "The record does not reflect that 35,563 unaccounted ballots were added to the total count," the court ruled. "The motions for sanctions will be considered in due course."
In The News
Former President Trump could face indictment by a Manhattan grand jury as early as next week for his role in falsifying business records while paying hush money to an adult film star. As Trump posted dark warnings on social media, law enforcement worked with prosecutors to take precautions and keep people safe.
Trump is also the subject of several other investigations, including for trying to disrupt the peaceful transfer of power and overturn 2020 election results in Georgia. His lawyers filed motions in federal and statecourts this week seeking to impede or dismiss the investigations.Legal experts said those efforts were unlikely to succeed.
Six more people affiliated with the Oath Keepers were convicted for their roles in the Jan. 6, 2021, attack on the Capitol. Five were convicted of conspiracy to obstruct an official proceeding, which carries a sentence of up to 20 years in prison.
Image information: Early voting at an Atlanta polling station in November 2022. (Alex Wong/Getty Images)