The Best of Our Democracy
The White House lifts up heroes of the 2020 election.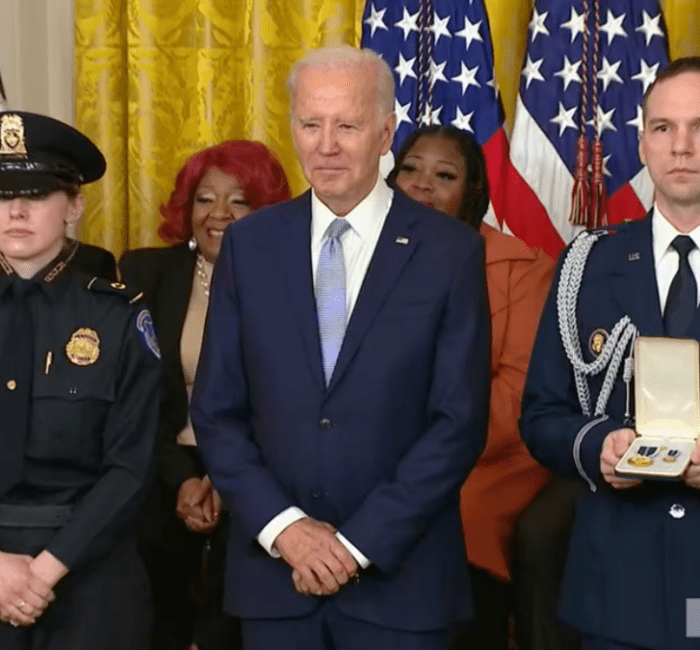 Published: 1.6.23
It's been two years since the Jan. 6 insurrection, and the day is rightly being marked with solemn remembrance, along with a determination that our country can never allow anything like it to happen again.
But it's also a day to remember that the dark days after the 2020 election brought out the best of our democracy.
President Biden marked the day by bestowing the Presidential Citizens Medal, one of the country's highest civilian honors, on 14 people who did their part to uphold the will of the voters under extraordinary circumstances.
Three were state and local officials. Jocelyn Benson, the Michigan secretary of state, endured armed protests at her house as she protected the election results. Al Schmidt, a Republican who was then a Philadelphia city commissioner and this week was nominated as Pennsylvania's next secretary of state, was threatened after he refused to back former President Trump's claims of fraud. Rusty Bowers, then the Arizona House speaker, memorably told the House January 6 Select Committee about refusing to yield his conscience under similar pressure from Trump allies.
Two recipients of the medal, a mother and daughter, were election workers in Fulton County, Georgia. Ruby Freeman and Shaye Moss faced their own threats and harassment, much of it racist, after an ugly disinformation campaign.
And nine defended the Capitol on Jan. 6, 2021. They served with the Capitol Police and Washington, D.C.'s Metropolitan Police Department. Lift up their names, too: Harry Dunn, Caroline Edwards, Aquilino Gonell, Eugene Goodman, Michael Fanone, and Daniel Hodges. And Howard Liebengood, Brian Sicknick, and Jeffrey Smith, who died after the attack.
We can all hope that our democracy is never again pushed to the brink. And we should all work to make sure of it. But on this day, two years after the insurrection, as we remember the terror and violence, we can also honor those who met the moment for our democracy, and made sure the destruction wasn't far greater.
Sign up for the weekly newsletter here. 
State of the States
In Arizona, a recount under state law confirmed that Kris Mayes was elected attorney general by 280 votes, defeating Abraham Hamadeh, an Election Denier. The result means that Election Deniers failed to win a single race for offices that oversee voting in the swing states of Arizona, Georgia, Michigan, Nevada, Pennsylvania, and Wisconsin. In December, a judge dismissed a lawsuit filed by Hamadeh that sought to throw out the election results based on unsubstantiated misconduct allegations. A lawyer for then-Secretary of State Katie Hobbs called that suit a "spectacular waste of everyone's time." Hamadeh this week filed a motion for a new trial. Kari Lake, who was defeated in the governor's race in November, is appealing after losing her own case contesting the results. While many other Election Deniers quickly conceded their losses, Lake continues to spread disinformation. This week she called herself the state's "duly elected governor." Hobbs was sworn in as governor on Monday.
In The News