Reports
December 7, 2022
Replacing the Refs: 2022
In 2022, politicians who spread lies and conspiracy theories about our elections sought the power to oversee our elections, enabling them to interfere with nonpartisan election administration and put our free, fair, and secure elections at risk. We tracked their performance in statewide races.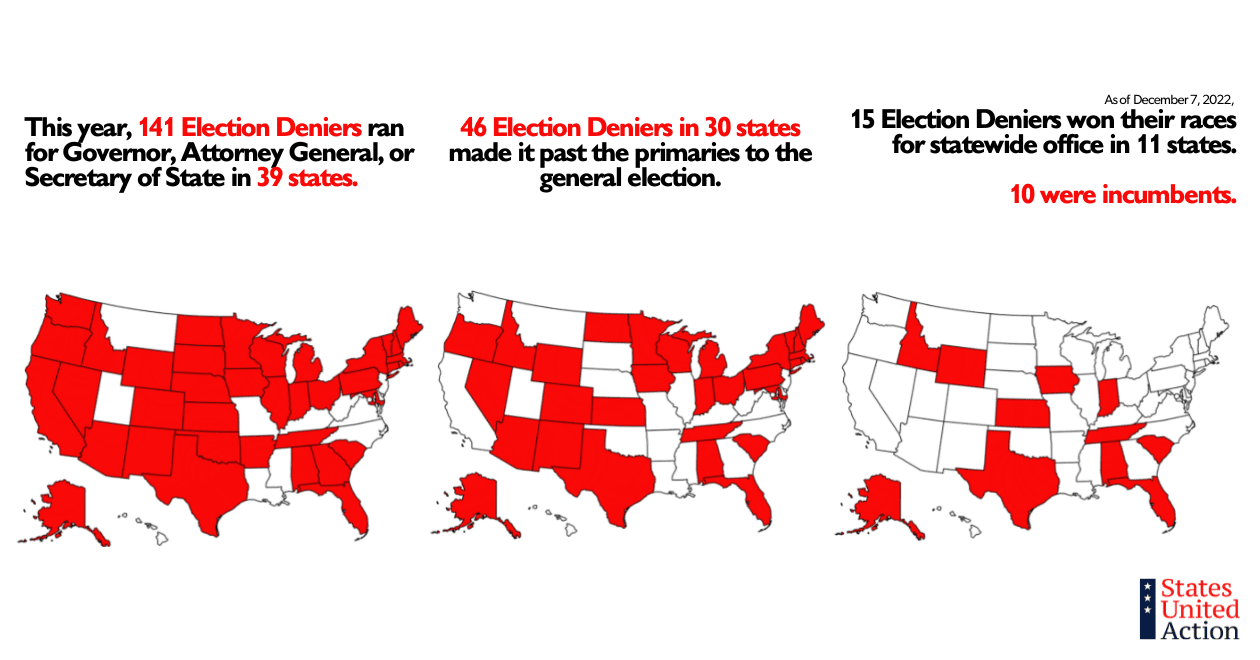 Last updated: December 7, 2022
TRACKING THE TREND OF ELECTION DENIERS RUNNING FOR STATEWIDE OFFICE IN 2022
A project of States United Action
The 2022 midterm elections were defined by a dangerous trend. In states across the country, Election Deniers entered races for governor, attorney general, and secretary of state. These candidates campaigned on lies about the 2020 election and asked Americans to trust them with power over future elections. 
When the voters had their say, they spoke loud and clear. They believe in our elections, they're tired of conspiracy theories, and they'll step up to defend the freedom to vote. In most places, Election Deniers were rejected decisively. (In battleground states, it was a clean sweep: They lost every race for statewide jobs that oversee voting.) 
Elections are national events, but they're run by the states. That means the state officials who oversee elections—governors, secretaries of state, and attorneys general—are on the front lines of our democracy. In all, 141 Election Deniers entered races for these three positions in 2022. Many were defeated in the primaries, often by Republican incumbents who refused to endorse the Big Lie. But dozens advanced to the general election. When Americans finally went to the polls, more than half the country had an Election Denier on the ballot. 
Sources
In Illinois and Wisconsin, the Secretary of State signs the certificate of ascertainment but does not oversee election administration. There is a push by a number of Wisconsin candidates running in 2022 to change the duties of the office. In Alaska, the Lieutenant Governor oversees election administration. In South Carolina, the executive director of the South Carolina State Election Commission administers elections.

In some states, there are candidates with filings/open campaign committees that have not taken any public actions since October 2021 to indicate they are active candidates. They are not included in our tracker. If any one of these candidates take steps that indicate they are actively running this cycle, we will add them.

Common conspiracies include any host of debunked claims and myths about the 2020 election. These include sharing or liking videos by Project Veritas, amplifying claims that voting machines were tampered with, Dominion Voting Systems' machines rigging the election, dead people voted, noncitizens and/or foreign countries were involved, voter registration numbers not matching final vote counts, ballot harvesting, and other claims about "stolen elections."