A More Inclusive Democracy
Celebrating Asian American, Native Hawaiian, and Pacific Islander Heritage Month.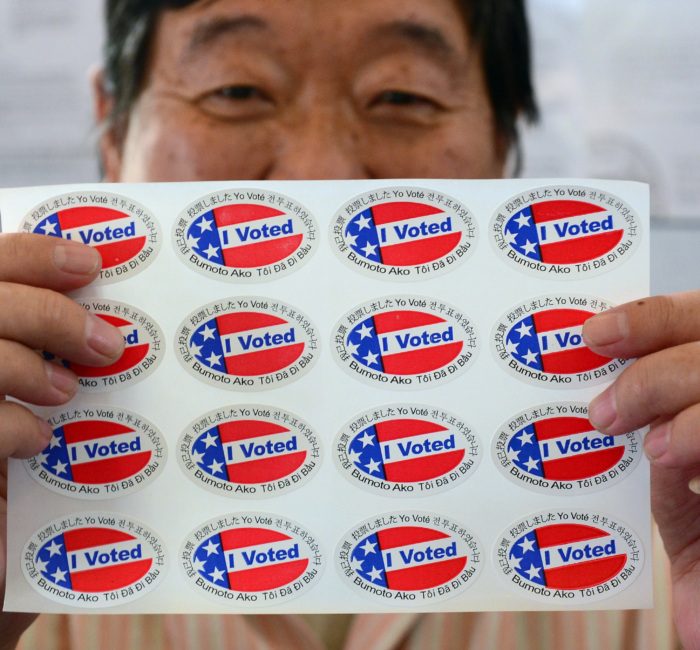 Published: 5.26.23
We celebrate the cultural diversity of Asian Americans, Native Hawaiians, and Pacific Islanders, and their enduring contributions to a stronger, more representative democracy.
It was only in 1952 and 1965, with the passage of the Immigration and Nationality Acts, that Asian Americans began to gain broad access to the freedom to vote. In 1975, reauthorization of the Voting Rights Act, with its guarantee of language assistance at the polls, welcomed more voters with limited English proficiency into the election process. This is critical for a diverse Asian American community that speaks more than 2,300 languages.
By 2020, a record 4 million Asian Americans, Native Hawaiians, and Pacific Islanders voted in the presidential election. Two-thirds of Asian Americans voted by mail, a reminder that lowering barriers to the ballot box helps make sure every voice is heard.
This month, we celebrate some of the many organizations working to lift up those voices in the present day and for the future.
APIA Vote, Empowering Pacific Islander Communities, and Pasifika Vote mobilize Asian American, Native Hawaiian, and Pacific Islander communities through voter registration, education, and advocacy.
Asian Americans Advancing Justice, AAPI Victory Alliance, and the Asian American Legal Defense and Education Fund work to protect the freedom to vote and increase representation in elected office.
We also honor individual leaders, including Minh-Thu Pham, Jennifer Chau, Varun Nikore, and Sachin Chheda. By organizing voters, combating disinformation, striving for justice, and fighting for fair elections, they carry on the work of building a more inclusive democracy.
And we acknowledge the many Asian American elected officials across the country helping to lead our democracy. Maryland Secretary of State Susan Lee, Oregon acting Secretary of State Cheryl Myers, and Connecticut Attorney General William Tong are all the first Asian American leaders to serve in their positions in their states. In addition to our first Black and Asian American vice president in Kamala Harris, they are joined by 21 Asian American, Native Hawaiian, and Pacific Islander members of Congress, and hundreds of state legislators, according to a count by the Asian Pacific American Institute for Congressional Studies.
Sign up for the weekly newsletter here. 
State of the States
In Arizona, a judge ruled against Kari Lake in an election challenge and confirmed Katie Hobbs's victory in the governor's race last year. After a three-day trial, Superior Court Judge Peter A. Thompson ruled that Maricopa County election workers complied with the law and state election rules as they reviewed signatures on mail-in ballots. Maricopa County later asked the judge to sanction Lake and her lawyers for repeated false statements during the trial, including the baseless claim that the 2022 election was "rigged." Lake, who lost the race by about 17,000 votes, used a news conference after the decision to promote lies about Arizona elections.
In Pennsylvania, the state Senate opened hearings on the confirmation of Al Schmidt as secretary of the commonwealth, the state's top election official. Schmidt, a Republican, was a Philadelphia city commissioner in 2020 and received death threats after he refused to support former President Trump's false allegations of election fraud.
In The News
Image information: 

Henry Tung, a

California election official

, in 2012

. (

F

rederic

J.

Brown

/AFP via Getty Images)