VPP Blog: State Attorneys General Counter Voter Intimidation 101
The Voter Protection Program (VPP) is a nonpartisan initiative committed to ensuring safe, fair, and secure elections.
In the fast-changing environment of the 2020 election, we're focused on empowering state attorneys general, other state and local leaders, and allies with tools to protect voters and our democratic system. Our work combines expertise in legal strategy, policy analysis, and effective communications.
State attorneys general immediately spoke out against President Trump's call, in the first presidential debate last month, for an extremist group, the Proud Boys, to "stand by" for action. Their concern escalated when the President later suggested that the 2020 election would be tainted by fraud and urged his "supporters to go into the polls and watch very carefully, because that's what has to happen. I am urging them to do it."
These statements were made in an already febrile environment. Just days before the first presidential debate, election officials in Fairfax, Virginia, were forced to open extra waiting spaces for prospective voters who felt intimidated by a disruptive group that showed up to rally at an early voting site. Election officials even went so far as to provide some voters an escort into the polls. Just days later, national recruitment efforts to gather an "army of poll watchers" escalated, sparking even more concern from voters and election officials alike.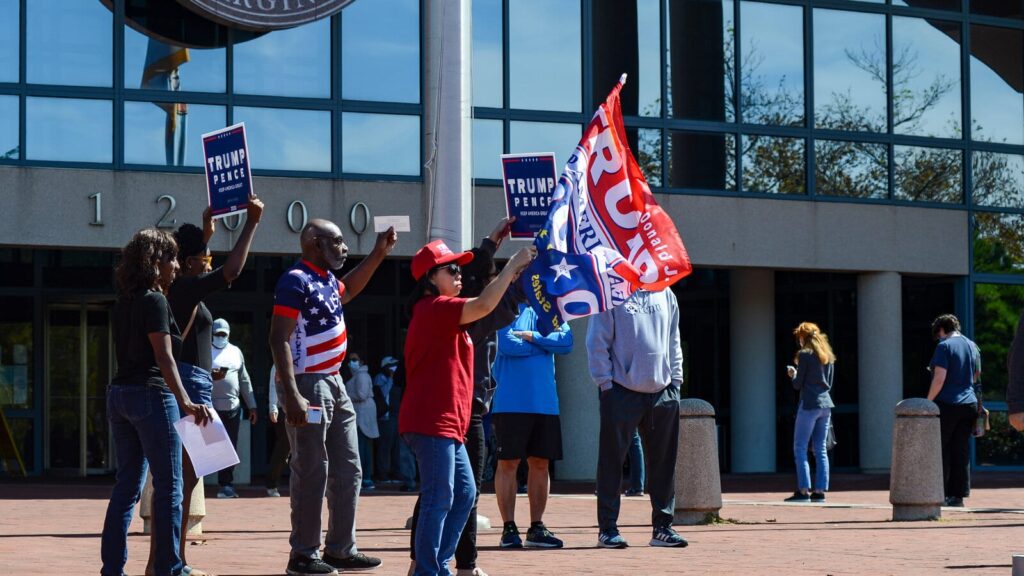 Voter intimidation efforts have a long and unfortunate history in this nation. These efforts often target communities of color. In the past, after hearing statements like the President's, vigilantes have aggressively patrolled polling stations. And while they rarely show up at numerous locations, even minor disruptions can be amplified and publicized to intimidate voters more broadly.
Fortunately, state attorneys general have many tools at their disposal to battle efforts to interfere with our free, fair, and safe elections. Anyone who follows the President's advice, or similar advice, risks criminal prosecution if they engage in voter interference or intimidation. State and federal laws protect voters from interference and intimidation, including by menacing or violence. (Some of those federal and state laws are detailed at the end of this post.) It is also generally illegal to challenge voters without authorization or without a factual basis. And unauthorized private militias are entirely illegal.
The right to vote is the cornerstone of American democracy. No one – not individuals, not so-called militias, not political campaigns, and not the federal government – has the right to intimidate voters. Laws exist to ensure every voter feels safe and secure when exercising their rights. Under the U.S. Constitution, state officials have the primary responsibility for securing the right to vote, protecting voters, and punishing lawbreakers.
State attorneys general have taken the lead reassuring voters that the election will be safe. They have also sent a very clear message that they will prosecute and punish potential lawbreakers. The policy is simple: voters should be encouraged; intimidators should be deterred. As Colorado Attorney General Phil Weiser put it to the Denver Post: "That's not the way we do things here…There's no role for citizens to show up at poll sites and [make] it harder to vote. Indeed, doing so could be a crime." Vermont Attorney General T. J. Donovan shared a similar sentiment in a statement picked up by the Burlington Free Press: "It is a crime to intimidate or interfere with a Vermonter's right to vote at the polls. The Attorney General's Office will enforce the laws as necessary to ensure that all Vermonters are able to peacefully exercise their fundamental right to vote without disruption."
In Michigan, Attorney General Dana Nessel filed charges against Jack Burkman and Jacob Wohl on October 1, 2020, for engaging in voter intimidation and suppression. Burkman and Wohl are alleged to have orchestrated a robocall scheme that honed in on residents in urban areas with a large minority population, including 12,000 Detroit residents. The people who got the calls were falsely told that if they voted by mail, their personal information could be used "by police to track down old warrants and by credit card companies to collect outstanding debts." The robocalls even claimed that the voters would be tracked down by the Centers for Disease Control and Prevention for mandatory vaccination. The two men were charged with violating the state's law barring menacing or using a corrupt scheme or device to deter or interrupt a voter from taking part in an election, among other things.
Meanwhile, attorneys general in the District of Columbia, Massachusetts, Virginia, and Vermont issued advisories making it clear that efforts to intimidate voters are illegal and will not be tolerated. And a host of other state attorneys general took to public airwaves —from ABC to Twitter—to help make the law clear.
American voters should be confident this year that their polling places will be safe and free from interference.
A variety of federal and state laws bar voter intimidation. Violating the law can lead to prison time.
For example, the Voting Rights Act of 1965 and the Civil Rights Act of 1957 both bar voter intimidation by either private or government actors.
In the wake of Bloody Sunday in Selma, Alabama, Congress passed the Voting Rights Act, which among other things made it against the law to "intimidate, threaten, or coerce, or attempt to intimidate, threaten, or coerce any person for voting or attempting to vote." 52 U.S.C. § 10307(b).
The 1957 Civil Rights Act similarly bars an effort to "intimidate, threaten, coerce, or attempt to intimidate, threaten, or coerce any other person for the purpose of interfering with the right of such other person to vote or to vote as he may choose, or of causing such other person to vote for, or not to vote for, any candidate for the office of President, Vice President, presidential elector, Member of the Senate, or Member of the House of Representatives, Delegates or Commissioners from the Territories or possessions, at any general, special, or primary election…" 52 U.S.C. § 10101(b).
The Ku Klux Klan Act, which Congress enacted in 1871, also applies to people who conspire "to prevent by force, intimidation, or threat" a voter from supporting or advocating for the federal candidate of his or her choice. 42 U.S.C. § 1985(3).
Federal criminal law imposes a prison term up to a year on a person who "intimidates, threatens, coerces, or attempts to intimidate, threaten, or coerce, any other person for the purpose of interfering with the right of such other person to vote or to vote as he may choose…" 18 U.S.C. § 594.
Many states have similar provisions.
For example, in Florida it is illegal to "intimidate, threaten, or coerce, or attempt to intimidate, threaten, or coerce, any other person for the purpose of interfering with the right of such other person to vote or not to vote as that person may choose." Fla. Stat. § 104.0515(3).
New York imposes penalties on a person who uses or threatens to use "force, violence or restraint, or inflicts or threatens to inflict any injury, damage, harm or loss, or in any other manner practices intimidation upon or against any person in order to induce or compel such person to vote or refrain from voting." N.Y. Elec. Law § 17-150 (Consol.)
Meanwhile, in Montana, a host of coercive activities aimed at voters is illegal. No one can force, coerce, unduly influence, threaten temporal or spiritual injury or harm, or interfere with a voter. Mont. Code Ann. § 13-35-218.
The following non-exhaustive additional resources are helpful for citizens who want to learn more about voter intimidation and the law.