Accountability for Election Lies
Pursuing consequences for those who undermine trust in our democracy.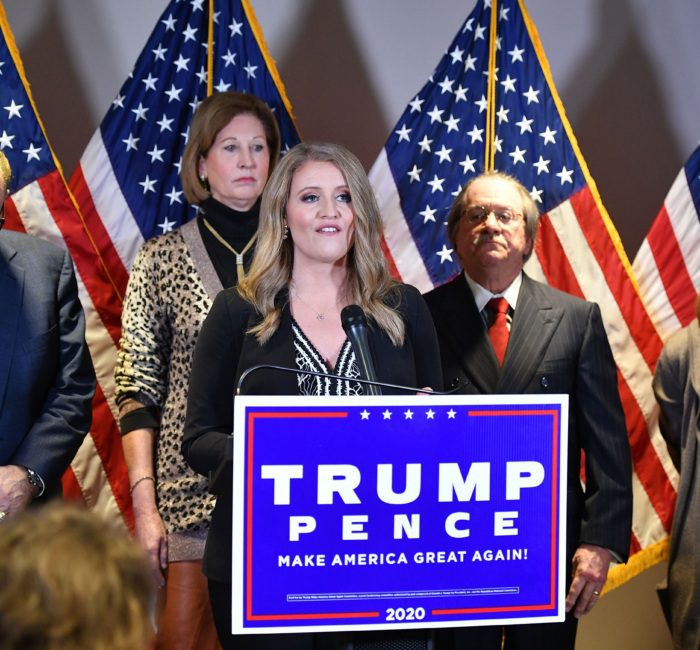 Published: 3.10.23
At a time of peril for our democracy, everyone in a position of public responsibility has a simple choice to make. They can lie about our elections, or they can tell the truth.
Jenna Ellis chose to lie. As a lawyer for former President Trump and the Trump campaign, she repeatedly went on television and Twitter in November and December 2020 and peddled conspiracy theories about a stolen election.
Ellis was publicly censured for misconduct this week by a Colorado judge. She admitted that she knowingly misrepresented the facts at least 10 times, including by falsely claiming that Trump was the "true victor."
The disciplinary action comes after States United filed an ethics complaint against Ellis with Colorado state bar regulators last year. "There is a line attorneys cannot cross," the state's Office of Attorney Regulation Counsel said in announcing the censure.
Ellis crossed that line over and over by pushing disinformation about the election. She was a public face of Trump's attempt to overturn the results, appearing on television frequently to promote reckless and false claims about illegal voting, manipulated ballots, and a fraudulent outcome.
These statements were not just reckless and false. As Ellis herself admitted as part of the censure, they undermined public confidence in our elections.
John Eastman, one of the legal architects of Trump's desperate attempt to retain power, already faces possible disbarment in California. States United has encouraged other state bars to take similar action against other attorneys involved in the plot.
Both cases are reminders of why accountability is so important. Lies about elections degrade our democracy, especially when they come from elected officials, candidates, and the attorneys who represent them.
Sign up for the weekly newsletter here. 
State of the States
In Arizona, a judge imposed sanctions against Mark Finchem, an Election Denier who lost last year's race for secretary of state, and his lawyer for an election contest lawsuit that the judge called "groundless and not brought in good faith." The lawsuit made baseless claims about illegal voting and misconduct and was dismissed in December. Judge Melissa Iyer Julian this week ordered Finchem and the lawyer to cover attorneys' fees for the two defendants in the suit: Adrian Fontes, who defeated Finchem to become secretary of state, and Gov. Katie Hobbs, who was secretary of state at the time of the election. Julian's order discussed the need to deter meritless challenges that "waste the time and energy" of the parties and the court.
Also in Arizona, Attorney General Kris Mayes announced plans to investigate individuals who served as fake electors for Donald Trump. Arizona was one of seven states where groups of Trump supporters signed official-looking documents presenting themselves as presidential electors, even though Joe Biden carried those states in the 2020 election. At least two groups drew up such fake documents in Arizona. "I will investigate the fake electors' situation, and I will take very seriously any effort to undermine our democracy," Mayes told the Arizona Mirror. Federal prosecutors are also reportedly looking intofraudulent slates of pro-Trump electors. You can read more about Arizona's fake-elector schemes in States United's background briefing.
In The News
Image information: Jenna Ellis speaks at a November 2020 press conference in Washington, D.C. (Mandel Ngan/AFP via Getty Images)